From October 29th until December 3rd, 2015 I had the opportunity to stay at the Upernavik Retreat in northwestern Greenland.


The Residency/Housing
After the renovation of the old cooperage the Upernavik city
council decided to turn the building into an artist residency as it was always home of the arts and crafts. The retreat is organized by the Museum in Upernavik which has a great selection of native art, historic hunting gear, kayaks, furs etc. and of course art made by former residents of the retreat. The museum is right across from the residency and together with the old church and two other building they form the old town of Upernavik.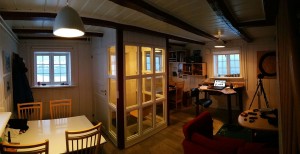 The exterior of the Cooperage was kept original with the typical pointed roof but inside it was turned into a small, modern apartment with two floors. Kitchen, work and living space on the first-, bedroom and bathroom on the second-floor, to comfortably house two artists but they should know each other well. The house itself is very picturesque and I took a gazillion images of it. It is one of the closest buildings to the water, on the outskirts of town, which is very scenic with a prefect view all around.
I spent a lot of time simply looking out the window, watching waves crash ashore or icebergs float by in the distance coming from the Upernavik Isstrøm. Smaller Ice sheets often float inside the bay in front of the window. At night you are probably in one of the darkest areas of the village which is a guarantee for great star gazing although the town has pretty bright street lights.
Water is delivered to the residency twice a week and gets pumped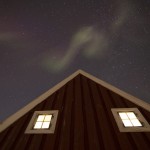 from the outside into a tank inside the utility room. You can run out of water quickly if you don't pay attention so I made it a habit to always turn off the water while brushing my teeth or shower shorter and turning it off while shampooing my hair or applying soap. I never ran out of water myself but should it ever happen, there are blue supply houses all across town where you can fill up canisters 24/7 and refill the tank yourself. Heating is done by oil which is delivered every three weeks or so and electricity comes from the local plant than runs on petroleum.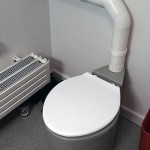 What needed some time for adjustment was the toilet itself. There is no sewer so the toilet is like a bigger and sturdier camping toilet. You do your business in a big black plastic bag that's fixed under the toilet seat. An exhaust pipe inside the bowl leads outside the wall and provides ventilation and keeps your cheeks quiet chilly if a storm ravages outside. These refuse bags get picked up three times a week by a guy who comes to the house. After a while I stopped thinking about the whole thing and it does look more or less like a normal toilet. As a tip, keep the bathroom cold and use some M1 mixed with water – it will keep the room fresh.
Upernavik

Upernavik is a hunting and fishing village of roughly 1200 inhabitants, 800 km (or 500 miles) north of the Arctic Circle. It is the main town of about 11 settlements that are spread out on the archipelago on the coast of Baffin Bay. Travelers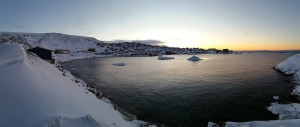 continue from here either by helicopter or mainly by boat if they want to reach any of the other villages. There are just a few roads on the island and therefore not many cars exist. Everybody walks regardless of the weather.
I've heard there is one taxi but I was not able to confirm that. During ice time, dog sledge is the main way of transportation for hunting and fishing. In general, many people use small sledges to haul their grocery shopping across town or children use
them to go to school. During the winter the sun won't rise for over two months but during the summer the sun will be up for nearly three months making daylight irrelevant when it comes to plan your day.

My trip to Upernavik
Flights to Greenland are being
offered by Air Greenland from Copenhagen with a modern airbus A330-200 and depending on the season you can fly over from Iceland or Canada with other airlines. The first stop is Kangerlussuaq from where passengers are distributed across Greenland. Pay attention when you pack your carry-on since Air Greenland's allowance and measurements are smaller than other airlines. This does make sense if you continue from Kangerlussuaq with a Bombardier Dash-8 or smaller aircrafts because now your bag has to fit under the seat.
Before my arrival in Upernavik, I spent two nights in Ilulissat. If you are interested in any touristy stuff this city offers all you desire from boat trips to dog sledge rides and hikes, all depending on weather conditions, snow, ice and
season.  Ilulisaat is in close proximity to the Sermeq Kujalleq Glacier, one of the fastest and most active glaciers in the world producing around 20 billion tons of icebergs every year which slowly travel down the the Ilulissat Icefjord, a Unesco World Heritage site since 2004. Rumor has it that an iceberg from this fjord hit the Titanic.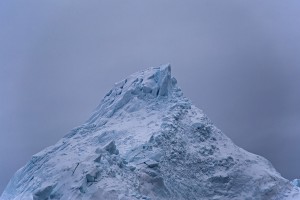 Before arriving in Upernavik I made sure to stay connected to internet. I knew it is possible to use the computer in the library or the museum but I like to stay independent. I used my stopover in Kangerlussuaq to buy a USB dongle from the Tele*Post which is right at the airport.
Literally one minute across the street. Although there are Tele*Post offices in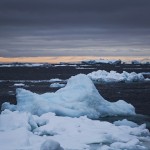 Ilulissat and Upernavik I wanted to make sure I got that covered. Important is to bring cash as they do not accept foreign credit cards. With the dongle, internet is slow and cuts out now and then, recharging is tricky since the instructions are in Danish but it is straight forward and once you've figured it, it is easy to repeat.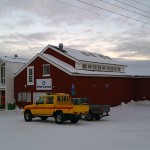 Upernavik itself has everything to live comfortably. There is a big Pilersuisoq supermarket in the center of town near the harbor which carries everything you need including PS4 consoles and games if you fancy it. Getting fresh fruit and vegetables can be a challenge and meats are always frozen but their selection is more than sufficient for all kinds of pallets although I've been told that during ice time the selection of goods shrinks rapidly. You can pay with cash, Visa or MasterCard. On the second floor is a small boutique with clothing of all kinds but especially winter clothes. There are smaller kiosks across town and a tavern that opens three nights a week after 10pm.
My Residency Stay
The UpernavikRetreat is a true fortress of solitude and accommodates artists since at least 2002.

I had extremely beautiful days and nights where I could see the Northern Lights right outside my window. Right in front of the house is a great location from where you can take pictures of the Aurora Borealis or simply enjoy them.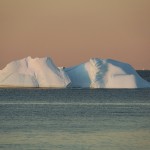 Depending on the current, the ice floe changes every day and the light varies constantly. Not one day was the same and I really enjoyed my walks across town with the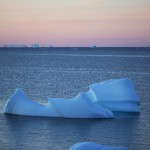 snow squeaking under my boots followed by dog puppies. Everybody is extremely friendly and not shy to just chat with you about your work. At night you can hear the dogs howl followed by complete silence.
After mid-November the sun disappeared and it got gradually darker. Before that, the sun was always lurking behind a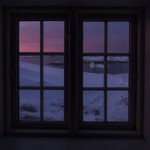 mountain. So the last time a saw the sun's sphere was actually in October during my sightseeing in Copenhagen on the way to Greenland.  Although a good portion of the day is dark, there is constantly the feel of twilight for a few hours and my inner clock was either telling me, "Oh, so late already" or "Did I wake up early?" but when I checked it was midday most of the time.
As the darkness crept in so did the weather change. A massive storm kept me inside the house for three full days, making the whole house shake and the walls tremble all day and night that I thought about my last will. The freezing gusts cooled the house down that on the second day I literally sat in my full snow gear in front of the computer, still freezing although there are five radiators on the first floor. On the third day
the temperature warmed up and snow-ice turned into rain. The wind was pushing so hard against the windows that water seeped into to house through most windows as well as from the ceiling on the first floor, which did not make much sense to me. I have never seen the Pilersuisoq supermarket so packed as on the day after the storm, and just like magic, it was filled with newly arrived Christmas decorations, starting the season officially.
The weather stayed overcast for seven days accompanied by snow fall every day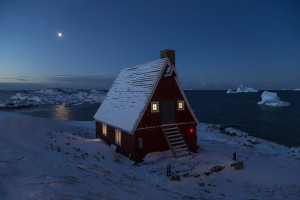 making that little light there was almost disappear. But this was all very enjoyable and part of the experience. The "bad" weather eventually passed followed by yet again clear artic nights with an amazing moon up in the sky all day and night shining as bright as the sun (with the correct stop and aperture) and of course Aurora Borealis, ice bergs and crisp white snow.
Anders from the Museum was so kind to organize a screening of six of my short films in the town hall, followed by a Q&A. The films were very well received and it was a lot of fun for me to see them screened for the first time in the Artic. At the screening I also meet Karl, a fellow Northern Lights enthusiast who shared some of his favorite viewing spots in town with me. He himself took some really impressive images of the Aurora Borealis and it was really nice to meet someone who is as excited about this natural phenomenon as I am.
Thanks to Samuel, on December 10th, my short films HALEEMA and ELDUR Á HIMNI were aired on KNR, the national Greenlandic television, including an interview with me.
I had a very creative time and was able to re-write my German feature length script MAUJA and to work on a first English draft of my feature film IMMEMORIAL. I also took thousands of images and experimented with time-lapse again. Besides all that, I lost 10 pounds due to my excellent cooking skills.  😀
Thanks for a great month Upernavik!
Cheers,
Boris Schaarschmidt